Journal Entry:
Mon Jan 13, 2014, 4:46 PM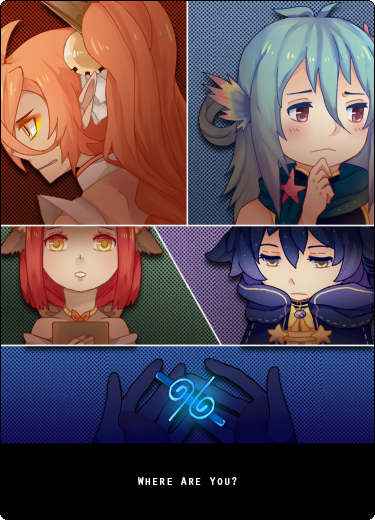 STORY
Deep within the large, hollow tree at the center of Honey Forest, a secret meeting is being held. Though the climate is warm, and the soft, grassy interior of the hollow comfortable, the air seems tense and heavy. The plants, as if knowing something is amiss, have slowly begun to droop as well. This, of course, has not gone unnoticed by the gods Kor and Salt.

Frustrated, Kor ran a hand through his hair and threw his arm out. "We've looked everywhere. They are nowhere to be found!"

Salt pats the fire god on the shoulder and tries to calm him down. Still optimistic, he replies, "Not to worry, I'm sure they will show up. Maybe they are playing hide and seek! You know how tricky Breeze could be during hide and seek!"

The God of Vaal only grows more irritated at the other's consoling. "This isn't one of Breeze's pranks. Can't you see? The terrains are suffering and their goddesses are gone. We can only assume the two are connected. If this goes on for any longer, Tere and Ira will die." He paces the hard floor, now muttering to himself, "There has to be something we have yet to figure out." Breeze's input would have been nice about now. Of all the Gods to go missing, why couldn't Salt have been one of them? Tch.

Listening quietly to the conversation are the two guardians of Tere and Ira. However, they too, know nothing more of the situation than their uncertain overseers. Maple, while interpreting their words silently and without interrupting, cannot mask her own anxious feelings. Étoile, a stoic mask, keeps his eyes down, though he too is paying utmost attention to the conversation. In his hands is a small clip, normally pinned to Breeze's mantle, the only thing that was recovered in their search of Tere.

Salt scratches his head and ponders a bit. "I suppose you have a valid point." He sits on the floor, crossing his arms and legs. "Perhaps we could inform the others to join our search? It would go a lot faster if we can get more help."

Kor shakes his head. "Informing the spritelings will only cause mass mayhem. It is bad enough signs of the goddess' disappearance are manifesting in their respective terrains. We do not need to give those young ones more cause for worry. What we need is a distraction until we can sort out this predicament."

"Hmm..." Salt nods, agreeing that such knowledge would cause panic. "A distraction would be good, but what...?"

Kor looks up, smirking slightly. "I have an idea."